iPhone 13 and iPhone 13 mini Review
iPhone 13 and iPhone 13 mini
iPhone 13 is Apple's mid-tier flagship iPhone, followed by the iPhone 13 mini.
Apple's newest flagship iPhones, the iPhone 13 and iPhone 13 mini, were introduced on September 14, 2021, alongside the more expensive iPhone 13 Pro and iPhone 13 Pro Max. The iPhone 13 and iPhone 13 mini are ideal for those who don't need pro-level camera features.
The iPhone 13 mini follows on from the iPhone 12 mini, which was a 5.4-inch handset; the iPhone 12 was a 6.1-inch handset. With almost identical design features to the iPhone 12, the iPhone 13 has flat edges, an aluminum enclosure, a glass back, and a slight increase in thickness (7.65mm). In addition to Pink, Blue, Midnight (black), Starlight (silver/gold), and (PRODUCT)RED, iPhone 13 models also come in Green and Blue.
Both models are equipped with Super Retina XDR Displays that are 28 percent brighter than previous models. Its resolution is 2340×1080, which corresponds to 476 pixels per inch, while its larger brother, the iPhone 13, has a resolution of 2532×1170, which corresponds to 460 pixels per inch. On both iPhones, there is a maximum brightness of 1200 nits, as well as True Tone to adjust color temperature, Wide Color to increase display vibrancy, and Haptic Touch to provide feedback.
With the updated TrueDepth camera system and a smaller Face ID notch, this new iPhone takes up less space overall. In addition to the Ceramic Shield cover glass, the iPhone 13 and 13 mini have nano-ceramic crystals to make them more resistant to drops. Apple's new iPhones are waterproof and dust-proof and can survive up to 30 minutes submerged in water.
The new iPhones are powered by an upgraded A15 Bionic chip. It's got a 6-core CPU, 4 efficiency cores, a 4-core GPU (one fewer GPU than the Pro models), and a 16-core Neural Engine.
This phone has a diagonal dual-lens rear camera 12 megapixels wide and ultra-wide. A new f/1.6 lens lets in 47 percent more light, and Sensor-Shift Stabilization is built-in, while an f/2.4 lens improves low light performance on the Ultra-Wide camera.
As well as Portrait Mode, Night Mode, Time-Lapse, and other photography features, the iPhone 13 also includes Cinematic Mode, a feature that uses rack focus to seamlessly switch from subject to subject, blurring the background and giving pictures a 3D effect. With Cinematic mode, you can shoot in Dolby HDR and adjust the depth of field and blur using the iPhone's camera app. As well as 4K video, the iPhone 13 models are capable of recording video at up to 60 frames per second.
A new feature, Smart HDR 4, recognizes up to four people in a shot and optimizes lighting, contrast, and skin tones for each person. Deep Fusion, a feature first introduced on iPhone 12, enhances texture and detail in low-light situations.
These photographic styles are an advanced type of filter that is applied selectively to images to muffle colors or boost the vibrancy of every image without affecting the skin tone. There are four different options for Vibrant, Rich Contrast, Warm, and Cool, as well as settings for Tone and Warmth to customize and refine the look.
Face ID can be used to unlock Apple's iPhone 13 and 13 mini. This system is compatible with the 12-megapixel front-facing camera, which supports Smart HDR 4, Deep Fusion, Night Mode, Cinematic Mode, Night Mode Selfies, and more.
A 5G connection will enhance video streaming quality, FaceTime calls of higher definition, and gaming capabilities. However, the super-fast mmWave speeds will only be available in major cities in the United States. There is limited availability of sub-6GHz 5G speeds in more rural areas in the United States as well as other countries, and there are plans to support more 5G bands to expand 5G coverage.
It is worth noting that both the iPhone 13 and the iPhone 13 mini support Wi-Fi 6 and Bluetooth 5.0, as well as the U1 Ultra Wideband chip.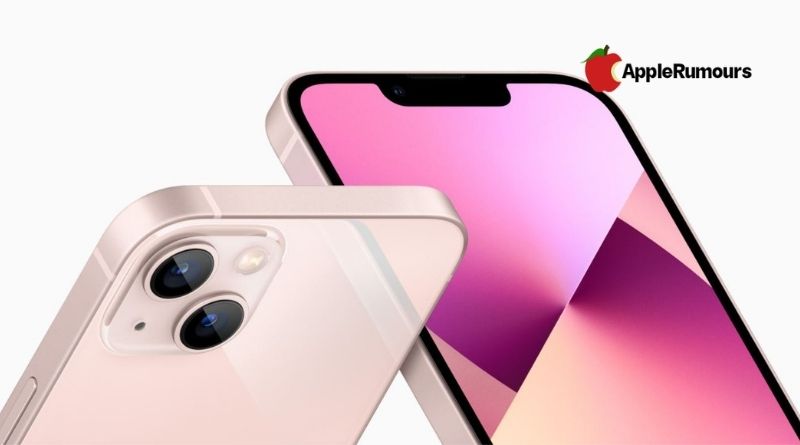 When 5G is not available, Gigabit LTE can be used, and Smart Data Mode will revert to an LTE connection when 5G is not required, to reduce battery consumption. Apple's new iPhone 13 models support dual eSIMs and do not come with a physical SIM card by default. However, a nano-SIM slot remains.
In addition to the larger batteries and the more efficient A15 chip, battery life has improved significantly. It is estimated that the iPhone 13 mini has a battery life up to 1.5 hours greater than the iPhone 12 mini and that the iPhone 13 has a battery life of up to 2.5 hours greater than the iPhone 12.
Starting at 128GB, the storage space goes up to 512GB at the highest level. Additionally, the device is equipped with a three-axis gyro, an accelerometer, a proximity sensor, an ambient light sensor, and a barometer.
The iPhone 13 and iPhone 13 mini-feature built-in magnets, as did last year's iPhones, are compatible with MagSafe accessories. The MagSafe charger is capable of charging the iPhone at up to 15W. With a 20W charging cable, the iPhones are also capable of fast charging, which can provide a 50 percent charge in 30 minutes.
Power adapters and EarPods are not included with the iPhone 13 and 13 mini. These accessories must be purchased separately. For charging purposes, they include a USB-C to Lightning cable.
The price and availability of the iPhone 13/13 mini
Apple's iPhone 13 mini is priced at $699, and the iPhone 13 is priced at $799, and prices did not increase in 2021. The iPhone 13 models will be available for pre-order starting September 17, 2021, and the first devices will be delivered to customers on September 24, 2021. Various iPhone 13 models are available for purchase from Apple's online store, Apple retail stores, carriers, and third-party retailers.
Reviews
Despite the positive reviews for the iPhone 13, some have described it as merely an incremental update that does not add enough new features to make it worth upgrading from an iPhone 12.
According to Dieter Bohn, of The Verge, battery life this year is "excellent," based on real-world testing. Although the iPhone 13 mini is improved over the iPhone 13 and smaller, Engadget noted that it is still shorter than the average smartphone.
The Wall Street Journal's Joanna Stern writes that although the better camera on the iPhone 13 is welcome, it is not sufficient to convince an iPhone 12 user to upgrade. Bohn noted that the "details are sharp and accurate, colors are rich without being oversaturated, focusing is fast and reliable, portrait mode is good to use every day, and low light and night vision are both exceptional."
Performance and battery life are good on the iPhone 13, according to CNET, and it will be a reliable option for the vast majority of consumers.
Design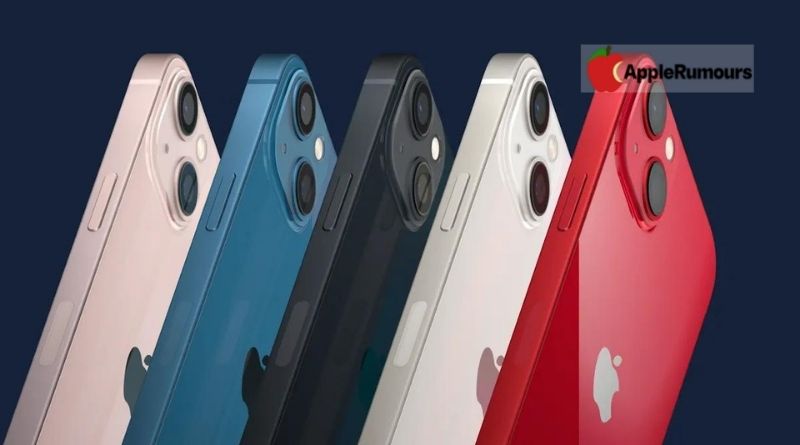 Apple abandoned the rounded edges found on iPhones since the iPhone 6 in favor of a flat design with squared-off edges, a design more reminiscent of the iPhone 4 and 5 and matching the iPad Pro.
The iPhone 13 models will have nearly the same body design as the iPhone 12 models they replace. Apple will use this same flat-edge design throughout its entire iPhone 13 lineup. The front and rear of this product are made from all-glass. The back is made from colorful all-glass and the frame is of the same color.
With the iPhone 13's front display there is a notch that houses the TrueDepth Camera, speakers, and microphone. There is a smaller notch on the phone this year, which allows for a larger display. Antenna bands can be found at the top of the phone and on both sides, along with the power button on the right and volume and silence buttons on the left. A 5G mmWave antenna appears beneath the power button, however, this antenna is only available on U.S. model iPhones.
As well as the Lightning port for charging, the iPhone 13 models have speaker holes and microphones at the bottom. There is a SIM slot on the left side of the device.
An iPhone 13 model features a square camera bump on the rear, along with a new diagonal lens arrangement that differs from the iPhone 12's vertical array of lenses. In Apple's opinion, the diagonal design allows for new camera technologies such as sensor-shift optical image stabilization.
Sizes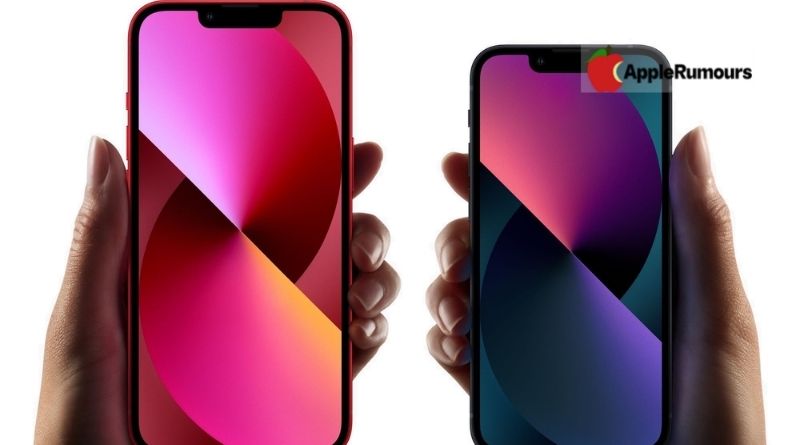 In addition to the 5.4 and 6.1-inch iPhone 13 models, Apple has also introduced the 5.4-inch iPhone 13 Pro. As per rumors, Apple will not offer the smaller size in the coming year since the iPhone 12 mini did not succeed in selling well.
According to Apple, the iPhone 13 and 13 mini are heavier and thicker than the iPhone 12 lineup.
Unlike the iPhone 13 mini, which has a height of 5.18 inches (131.5mm), a width of 2.53 inches (64.2mm), and a thickness of 0.30 inches (7.65mm), the iPhone 13 is 5.78 inches (146.7mm), a width of 2.82 inches (71.5mm), and a thickness of 0.30 inches (7.65mm).
At 4.97 ounces (141 grams), the iPhone mini is the lightest phone in the iPhone 13 lineup, followed by the iPhone 13 at 6.14 ounces (174 grams).
Colors
The standard iPhone lineup from Apple is available in a range of bright colors that have been offered for many years now. A series of new colors are available for the iPhone 13 and 13 mini, including Starlight (a mixture between silver and gold), Midnight (black), Pink, Blue, (PRODUCT)RED, and Green, a brand new color that was announced in March 2022.
Water Resistance
A water resistance rating of IP68 is available on the iPhone 13 and 13 mini. According to the manufacturer, the smartphones are capable of withstanding a depth of up to six meters (19.7 feet) for up to 30 minutes, identical to the iPhone 12 models.
According to IP68 standards, number 6 refers to dust resistance (which means that the iPhone 13 will be able to resist dirt, dust, and other particles), while number 8 refers to water resistance. IP6x is the highest level of dust resistance. A water resistance rating of IP68 means the iPhone 13 will survive splashes, rain, and accidental immersion in water, but intentional immersion in water should be avoided as much as possible.
According to Apple, water and dust resistance are not permanent conditions, and they can deteriorate over time through normal usage. Liquid damage is not covered by Apple's warranty, which means you should use caution when exposing your device to liquids.
Display
Each of the iPhone 13 models features the same OLED Super Retina XDR display, which is flexible and extends directly into the chassis.
Its 2,000,000:1 contrast ratio creates blacker blacks and brighter whites, and its peak brightness is 1200 nits for HDR photos, videos, TV shows, and movies. The maximum brightness for iPhone 13 models is typically 800 nits, 200 nits less than for the Pro models.
This 5.4-inch iPhone 13 mini has a resolution of 2340 x 1080 pixels and a pixel density of 476 pixels per inch, while the 6.1-inch iPhone 13 has a resolution of 2532 x 1170 pixels and a pixel density of 460 pixels per inch.
Wide color support provides vibrant, true-to-life colors, while True Tone automatically adjusts the white balance of the display by ambient lighting for a more comfortable viewing experience that is lighter on the eyes. Furthermore, the display comes with an oleophobic coating that prevents fingerprints and supports Haptic Touch, which provides haptic feedback when interacting with it.
Smaller Notch
There has been a slimming of Apple's TrueDepth camera system notch, which is now 20 percent smaller than the notch used in previous iPhone models. The iPhone 13 notch is slightly taller, despite being less wide than the iPhone 12 model. Comparisons between the iPhone 12 and iPhone 13 models confirm this.
Ceramic Shield
The iPhone 13 model continues to feature Apple's "Ceramic Shield" material, which offers better drop protection. Crystallized nano-ceramic crystals are infused into the glass to create the Ceramic Shield display cover. Ceramic crystals were manipulated to maximize their clarity while maintaining their toughness. This display was designed in partnership with Corning.
Ceramic Shield is considered to be tougher than any smartphone glass due to its dual-ion exchange process, which provides protection from scratches and everyday wear and tear.
Drop tests have shown that iPhone 13 models do not prove to be more durable than iPhone 12 models, which is not surprising since they are equipped with the same Ceramic Shield display and glass body.
A15 Bionic Chip
In addition to the A14 chip used in the iPhone 12, all iPhone 13 models utilize Apple's new A15 chip, which offers improvements in terms of performance and efficiency over its predecessor. It contains two performance cores and four efficiency cores, and the A15 chip in the iPhone 13 models is only bettered by the version in the iPhone 13 Pro models.
In comparison to the iPhone 13 Pro and 13 mini, the A15 chip in the iPhone 13 and 13 mini boasts a 4-core GPU, one less than in the iPhone 13 Pro and Pro Max. Consequently, the iPhone 13 Pro and Pro Max offer the fastest GPU performance, though the standard iPhone 13 models aren't far behind.
When compared to the iPhone 12 Pro models, the iPhone 13 Pro features 50% faster graphics, as well as 15% faster graphics.
Concerning the CPU, the iPhone 13 models are approximately 10 percent faster in single-core performance as well as 18 percent faster in multi-core performance when compared to the iPhone 12 models.
AnandTech tests indicate that the A15 is even more powerful than Apple's estimates and is 62 percent faster than competing smartphones.
Neural Engine
In addition, the 16-core Neural Engine can perform up to 15.8 trillion operations per second and is responsible for features like Cinematic Mode and Smart HDR 4.
RAM
As of last year, the iPhone 13 models have 4 GB of RAM, which is 2 GB less than the iPhone 13 Pro models. It should be noted that the amount of RAM has not changed between the iPhone 12 and iPhone 13 models and that the iPhone 12 and 12 Pro models both have 4GB and 6GB of RAM respectively.
Storage Space
It is worth noting that the iPhone 13 and iPhone 13 mini start with 128GB of storage, and 512GB can be ordered as an upgrade on the iPhone 13 and iPhone 13 mini models. Those are half the maximum storage space of the iPhone 13 Pro models, which come with storage space up to 1TB.
TrueDepth Camera and Face ID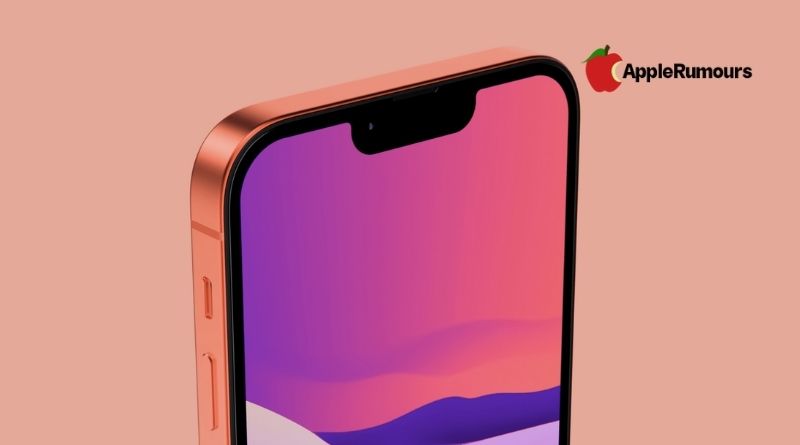 Face ID is the recognition system that was first introduced in 2017 for biometric authentication purposes. The iPhone 13 models use this system for authentication purposes. A TrueDepth camera system houses the Face ID components in the display notch, which is smaller this year than before.
As part of the iOS operating system, Face ID is used to unlock the iPhone, allow access to third-party passcode-protected apps, confirm app purchases, and authenticate Apple Pay payments.
To identify the face of a person, a set of sensors and cameras are used. With the help of a Dot Projector, a 3D facial scan is created by projecting 30,000 invisible infrared dots onto the surface of the skin, which is mapped by an infrared camera. This scan creates a 3D picture of the face and maps its curves and planes, creating a complete picture.
A15 chip receives the facial depth map and transforms it into a mathematical model used to authenticate the user. The mathematical model is then relayed back to the iPhone. The Face ID system works under low light, in the dark, and when a person wears a hat, beard, glasses, sunglasses, scarves, and other accessories that partially obscure their face.
Using Face ID With a Mask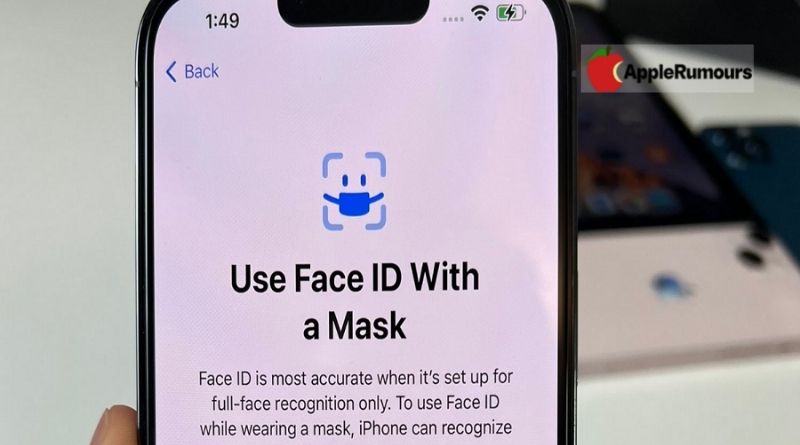 To simplify the process of unlocking devices when wearing a mask, users can enable the "Unlock with Apple Watch" feature. Apple Watch unlocking allows iPhone users to lock their devices using an unlocked and authenticated Apple Watch as an alternative authentication measure to unlock their devices when they are wearing a mask. In addition to not being able to use it to authenticate Apple Pay or App Store purchases, Face ID can also not be used to unlock apps that require it.
The latest iOS 15.4 update adds the functionality of Face ID working with masks so that authentication is no longer reliant on an Apple Watch. According to Apple, the feature can be used to recognize the unique features around an individual's eye in the process of authentication. It is important to note that if you choose to use this feature during setup, you will need to do a rescan for Face ID. Then from there, Face ID can unlock your iPhone even while you're wearing a mask.
Apple warns in the Settings app of Face ID that it is "most accurate" when it is set up in the Face ID app for full-face recognition only. It only works with a mask when you use Face ID with your device, and it does not work when you wear sunglasses. You must look at your device while using Face ID with a mask to get it to unlock. Authentication of Apple Pay payments with Face ID can be done with a mask, and the mask can also be used as an alternative to a login and password in apps supporting Face ID, unlike Apple Watch Face ID, which could only be used with the watch itself.
Only the iPhone 12 or newer models are capable of using the new feature. Although iOS 15.4 is not yet widely available, it is currently undergoing beta testing before wide release to the general public.
Front-Facing Camera Features
In addition to possessing facial recognition capabilities, the TrueDepth camera system includes a 12-megapixel f/2.2 camera on the front, which features many of the same features as the rear-facing camera, as well as the ability to take selfies and video calls.
Apple's new iPhone 13 models are equipped with an A15 chip, which means they will support many of the photo and video features that are available with the rear cameras, including Night mode for selfies, Smart HDR 4, Dolby Vision HDR, Deep Fusion, along with ProRes for capturing video with the movie-like depth of field changes, and Cinematic Photo Mode to capture bokeh effects similar to those at the cinema.
All the new features, such as 4K video recording, QuickTake video, Slo-mo video, Portrait Mode, Portrait Lighting, and Photographic Styles for selectively applying edits are supported by the new camera.
Dual-Lens Rear Camera
In addition to the iPhone 13 and 13 mini, the iPhone 13 and 13 mini include a diagonal dual-lens camera system. Featuring an aperture of f/1.6 on the Wide lens and an aperture of f/2.4 on the Ultra-Wide lens. It was announced that a new Ultra-Wide camera with better low light performance will be released soon, as well as an updated Wide camera that lets in 47 percent more light.
Neither the iPhone 13 nor the iPhone 13 mini have Telephoto lenses, so these models are limited to a maximum 2x optical zoom out and a maximum 5x digital zoom in.
There is now an array of iPhone 13 models that come with sensor-shift optical image stabilization, a feature that was previously available only on iPhone Pro models.
Camera Features
Smart HDR 4 – Detects up to four people in a scene and optimizes the contrast, lighting, and skin tone for each individual so that everyone appears to have a natural skin color.
Photographic Styles – Photographic Styles are a group of smart, on-the-fly adjusted filters that are capable of doing things like boosting or muting different colors without changing the skin tone. In contrast to filters, which are applied to the entire image, styles are applied selectively to an image. There are four different types of photography styles: Vibrant (which boosts colors), Rich Contrast (which adds more shadows to the image), and Warm (which emphasizes golden undertones) or Cool (which emphasizes blue undertones). Each style can be customized depending on the tone and warmth you want to achieve, so you can get the exact look you want.
Night Mode – The camera takes a series of pictures over a short period and combines them so that you can take pictures in low light conditions.
Deep Fusion – Enhances the texture and details of the image as well as enhances the image in low and mid-lighting conditions.
Portrait Mode – Uses a blurry background to keep the focus on the subject of the photo.
Portrait Lighting – Users can choose the lighting effect they want for Portrait Mode photos including Natural, Studio, Contour, Stage, Stage Mono, and HighKey Mono.
True Tone flash – This is the built-in flash that is designed to match the ambient lighting, and it does not disturb the white balance of the photo when used.
Panorama – This camera can take panoramic pictures up to 63 Megapixels in resolution.
Burst Mode – A series of images can be captured simultaneously, which is good for high-action shots.
Video Recording
With the iPhone 13 models, you can record videos at up to 4K, with 24, 25, 30, and 60 frame-per-second frames, as well as HDR video at 4K with Dolby Vision, or HDR video at 30 frames-per-second. In addition to recording video in full HD (1080p) and 720p (1080p), you can also record video within other formats.
With Cinematic Mode, a seamless shift from one subject to another is ensured by using rack focus to seamlessly change focus when capturing video. To keep a subject in focus while blurring the background, the camera will change the focus whenever a new subject enters the scene, and when it does, the focus will automatically be changed. Using the Photos app, blur and focus can also be adjusted after the video has been captured. There is a cinematic mode available for the Wide, Telephoto, and TrueDepth cameras, which in turn supports Dolby Vision HDR.
Other 4K video features include QuickTake video, audio zoom, Time-lapse, Night mode time-lapse, continuous autofocus mode, and 3x digital zoom (with the option to take 8-megapixel photos when recording 4K video) and the ability to take photos while recording 4K video.
Battery Life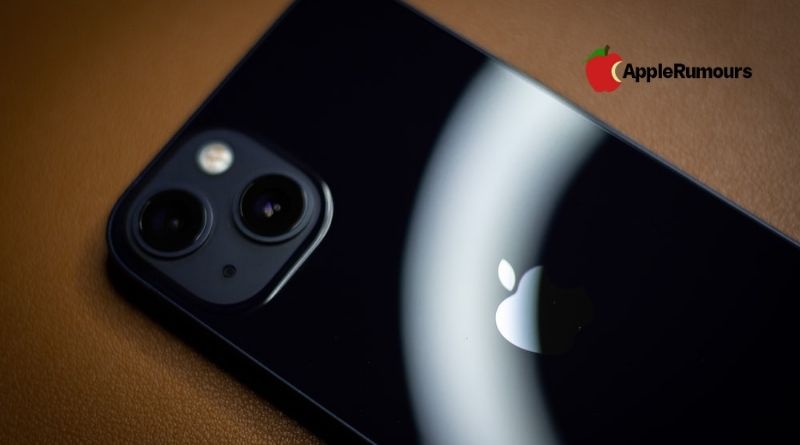 Thanks to the new A15 chip and larger batteries found in the iPhone 13, Apple has improved battery life across its entire lineup of iPhone 13. There is a 1.5-hour difference between the battery life of the iPhone 12 mini and that of the iPhone 13 mini, and the iPhone's battery lasts at least 2.5 hours longer than the iPhone 12.
During video playback, the iPhone 13 mini supports up to 17 hours of playback (13 hours during streaming), as well as up to 55 hours of audio playback. There is a 25-hour battery life of the iPhone 13 (up to 15 hours when streaming) and a 75-hour battery life for the iPhone 13 as well.
The iPhone 13 features a 3,227 mAh battery, compared to the 2,815 mAh battery on the iPhone 12, while the iPhone 13 mini has a 2,406 mAh battery, compared to the 2,227 mAh battery on the iPhone 12 mini.
Both the iPhone 13 model and the iPhone 13 Plus model are compatible with fast charging, meaning they can be charged to 50 percent within 30 minutes using a Lightning to USB-C cable and a 20W adapter.
5G Connectivity
There are several models of the iPhone 13 that are supported by 5G networks in addition to the usual LTE networks. These devices have a 5G modem that works with both mmWave and Sub-6GHz 5G, which are the two types of 5G. However, mmWave speeds remain only available in the United States for now.
A 5G network with mmWave technology is the fastest on the market, but mmWave technology is short-range and can be blocked by trees, buildings, and other obstacles, so its use is restricted to major cities and urban areas along with venues like concerts, airports, and other places where a lot of people gather.
In the United States and other countries, Sub-6GHz 5G coverage is becoming more widespread and more available in more places in urban, suburban, and rural areas. As a general rule, when you use a 5G network, you will be using Sub-6GHz 5G. Sub-6GHz 5G is generally faster than LTE, but it's still evolving and it's not the super fast 5G you might be expecting.
There is no doubt that 5G connectivity allows for more rapid download and upload speeds, which will allow websites to load faster and TV shows and movies to download more quickly. Moreover, it also increases streaming capacity so that you can watch movies and TV shows in higher quality, as well as improves the quality of FaceTime calls. You can make FaceTime calls via either WiFi or 5G. When LTE speeds are slow as a result of the sheer number of people using the network, 5G can free up bandwidth and reduce congestion so that the usage speed can be increased.
5G Bands
In the United States, the iPhone 13 models support over 20 5G bands.
Sub-6GHz: The 5G NR bands are N1, N2, N3, N5, N7, N8, N12, N20, N25, N28, N29, N30, N38, N40, N41, N48, N66, N71, N77, N78, and N79)
mmWave: Near-Real-Time mmWave (5G, n258, n260, n261))
LTE Bands
Apart from supporting 5G, the iPhone 13 models also support 4×4 MIMO Gigabit LTE with 4×4 MIMO, so you will be able to connect to LTE networks when 5G networks are not available. Currently, the iPhone 13 models support the following bands:
FDD-LTE (Bands 1, 2, 3, 4, 5, 7, 8, 11, 12, 13, 14, 17, 18, 19, 20, 21, 25, 26, 28, 29, 30, 32, 66, 71)
TD-LTE (Bands 34, 38, 39, 40, 41, 42, 46, 48)
Data Saver Mode
A feature on the iPhone known as Data Saver Mode switches the device's data connection from 5G to LTE when 5G speeds aren't needed to preserve battery life.
The iPhone 13 models switch over to 5G in some situations, such as downloading shows, when super-fast speeds are a necessity. As an example, when the iPhone is updating in the background, it uses LTE because super-fast speeds aren't essential. Also, you can allow your phone to use 5G whenever possible, as opposed to automatically switching to Data Saver Mode if 5G isn't available.
Dual SIM Support
Having dual SIM support means that two phone numbers can be used simultaneously, facilitated by incorporating both a nano-SIM slot and an eSIM card into the device. Apple has compiled a list of all carriers that support eSIM on its website, and it lists many of the countries where eSIM functionality is available.
eSIM Dual support, which means that there will be two eSIMs on the iPhone 13 models at the same time, rather than just one eSIM and one nano-SIM, is available on the iPhone 13 models. There will be no physical SIM card included in Apple's iPhone 13 models offered through carriers this year and carriers will instead rely on the eSIM technology for activation.
Bluetooth, Wi-Fi, and U1
The latest iPhone 13 models include an Apple-designed U1 chip, which is linked to Ultra Wideband technology, enabling improved spatial awareness, which makes iPhone 13 models capable of precisely finding other Apple devices equipped with the U1 chip. Since Ultra-Wideband technology is designed to improve indoor positioning and location tracking, Apple has compared Ultra Wideband to "GPS on the scale of a living room.".
The U1 chip enables the iPhone 13 and 13 mini to precisely track nearby AirTags using the GPS location services. Furthermore, it is also used for directional AirDrop and interaction with the HomePod mini, which has a U1 chip as well.
It should be noted that the iPhone 13 models are compatible with Bluetooth 5.0 and Wi-Fi 6 (802.11ax).
Other Features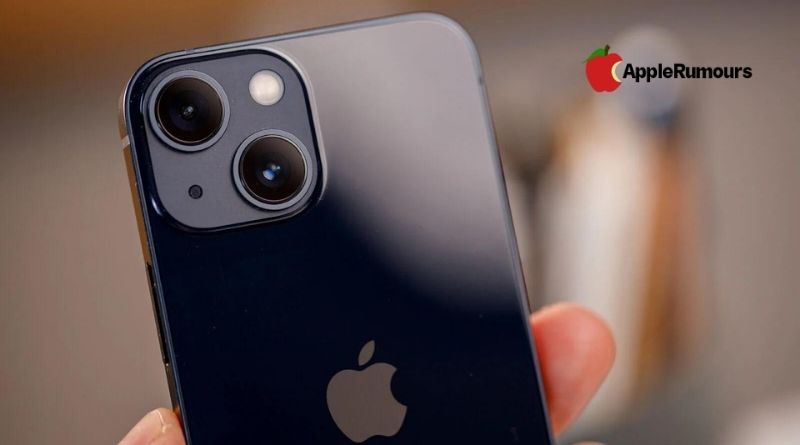 Speakers
It is important to note that the iPhone 13 models have a stereo speaker on top of the phone where the notch is located, and a second stereo speaker on the bottom next to the Lightning port.
Sensors
In addition to its barometer, three-axis gyroscope, accelerometer, proximity sensor, and ambient light sensor, the iPhone 13 series also comprises a three-axis gyroscope and an ambient light sensor.
GPS and NFC
GPS, GLONASS, Galileo, QZSS, and BeiDou are the location services supported by both the iPhone 13 and 13 mini. It also includes NFC reader mode that enables quick reading of NFC tags without the need to open an app first, as well as a background tag feature that let you scan NFC tags on the iPhone without having to open the app first.
MagSafe
In addition to the Apple iPhone 13 line, the iPhone 13 family is featured built-in MagSafe technology in the form of a magnetic ring that can connect to a MagSafe charger or other magnetic accessories.
This MagSafe charger is designed to snap right onto the back of the iPhone 13 models, and it will charge at a rate of 15W, which is higher than the wireless charging rate of 7.5W available with Qi-based chargers.
There are a variety of other magnetic accessories that are compatible with the magnetic ring, including cases, sleeves, wallets, and more. Third-party companies have also been able to make accessories for MagSafe iPhones.
There has been a report of circular marks left on leather cases after using MagSafe chargers, and a similar effect has been observed with silicone cases. The Apple website also states that credit cards, security badges, passports, and key fobs should not be placed between a MagSafe charger and an iPhone.
In the same way that all iPhone models, the iPhone 13 models come with the MagSafe technology which can cause interference with medical devices such as pacemakers and defibrillators. It is recommended by Apple that the MagSafe iPhone and all MagSafe accessories are kept away from implanted medical devices at a safe distance.
iPhone 13 Pro and 13 Pro Max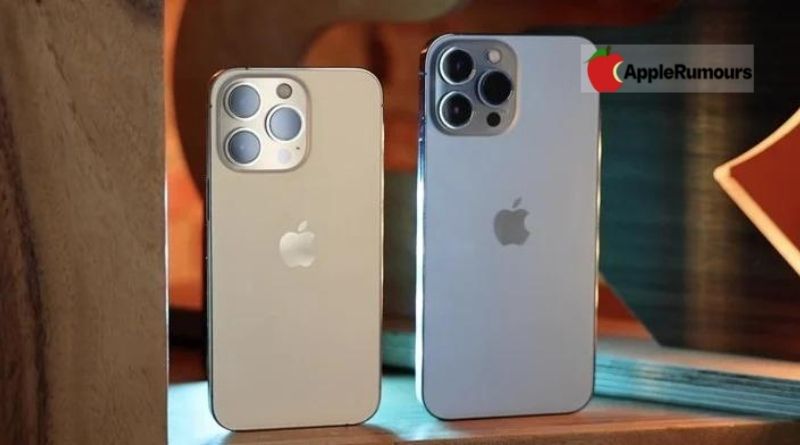 In addition to the iPhone 13 and 13 mini, this year's flagship smartphones, the iPhone 13 Pro and Pro Max will be sold alongside the iPhone 13 and 13 mini. There are still a few features available on the more affordable iPhone 13 and the 13 minis, but when compared to the Pro models, the more expensive iPhones have a better build quality and more features.
There are many differences between the iPhone 13 Pro and the iPhone 13 Pro Max compared to the standard iPhone models. These differences include a stainless steel frame, 120Hz ProMotion displays, triple-lens cameras with Wide, Ultra Wide, and Telephoto lenses, and higher-end photography options including macro photography and ProRes video.
You don't know whether to go with the iPhone 13 or the iPhone 13 Pro? If you are thinking of moving up from the iPhone 12, we have a guide here that explains the similarities and differences between the iPhone 13 and the iPhone 13 Pro. If you're thinking of switching from the iPhone 12, we have a guide for you.
For those who are interested in learning more about the iPhone 13 Pro models, we also have a comprehensive iPhone 13 roundup that walks through all its features.
Future iPhones
The iPhone 13 models will be replaced by the iPhone 14, which in turn will be followed by rumors of the iPhone 2022 models. It is expected that Apple will do away with the notch for at least some models, adopting a hole-punched front-facing camera and under-display Face ID technology.
There are also rumors that the iPhone 14 models could feature a new design that gets rid of the camera bump, introducing a flush camera design in many years. Our dedicated iPhone 14 roundup will give you more information on what to expect from the iPhone 14.