The previous version of macOS, macOS Big Sur, has been superseded by macOS 12 Monterey. With macOS Big Sur, Apple made the most significant design changes to the operating system since the release of Mac OS X. These changes ranged from the curvature of window edges to colours and dock icon styles. The updated appearance was created to seem both familiar and new at the same time.
The Dock is more translucent, app icons have a new uniform squircle shape, menu bars in apps have been redesigned to make them less intrusive and better able to blend in with your content, system sounds have been completely redone, and there are new symbols in toolbars, sidebars, and controls to provide clarity and consistency across apps. Windows has a lighter appearance for a cleaner look with additional translucency and rounded edges.
To put more emphasis on the content, buttons and controls for apps now appear as needed and vanish when not in use. Additionally, the movable menu bar provides access to a movable Control Center that includes Wi-Fi, Bluetooth, and AirDrop controls, keyboard brightness, Do Not Disturb, Dark Mode, sound level, and other settings.
More interactive alerts organised by app and customizable widgets in three sizes are features of the newly revamped Notification Center. Updated core applications provide improved organisation for many open windows and simplified app interaction.
In macOS Big Sur, Safari is quicker and more battery-friendly than ever. It also has a redesigned start page that users can personalise with their own backgrounds and areas like Reading List and iCloud Tabs. Finding extensions is made simpler by the Mac App Store, and Apple included a capability that makes it simple to convert Chrome and Firefox extensions to Safari.
Apple updated tabs to display more tabs onscreen, with favicons shown to identify tabs and a hover gesture enabling short page previews, in order to speed up Safari navigation. Limiting system access, users may control when and which websites can utilise a Safari extension.
The Privacy Report feature in Safari has increased privacy by letting users know which trackers Safari is preventing when they visit websites. With just one click, Safari's built-in translation feature can translate a whole website from one of seven languages.
Password monitoring, a security feature that combines automatically generated strong passwords and other methods, alerts users if there has been a data breach for passwords kept in iCloud Keychain.
With many of the same features as iOS 14 including pinned conversations, @mentions, inline responses, and more, Messages is now built on the Messages app for iOS. Mac users may now use message effects, and it now enables creating and using Memoji stickers.
A new picture picker that is accessible across macOS makes it simpler to discover photographs by keyword to share to friends and family. The Messages app's search has been updated to make it quicker to find links, photos, and matching phrases. Trending photos and GIFs are now available in the picture picker for attaching to messages.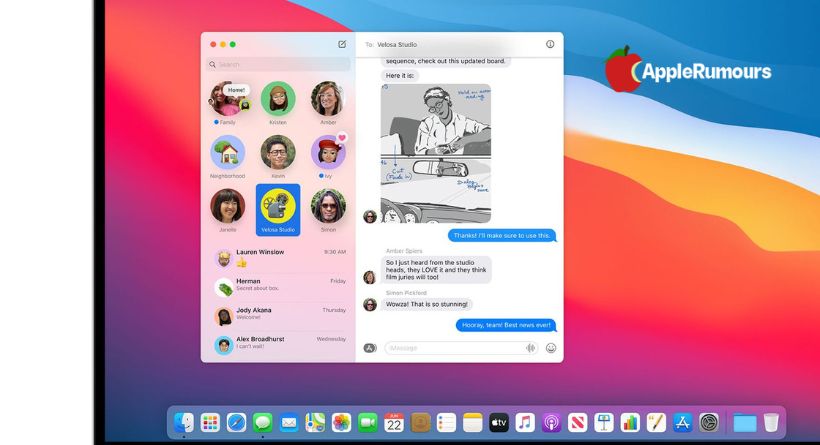 For macOS Big Sur, Apple updated the Maps programme and included support for Look Around, indoor maps, and Guides, which are directories of noteworthy landmarks, eateries, and other items compiled by reputable sources. With the help of maps for macOS, you can create journeys for bicycles and electric vehicles that you can send to an iPhone, and you can now monitor shared ETA updates on the Mac.
With the addition of a new Retouch tool driven by machine learning, the Photos app now offers more editing options, while Apple Music has been updated with a new Listen Now area that features new releases, artist interviews, and customised playlists.
AirPods have better than ever automatic device switching, HomeKit Secure Video cameras now enable Face Recognition, and Siri can now respond to a far larger variety of queries than before in the Home app.
Before downloading an app, customers may better understand privacy policies and the data that developers gather thanks to the Mac App Store's new App Privacy label feature. This function is similar to a food nutrition label for applications in the Mac App Store, according to Apple.
To make it simpler to keep your Mac up to current, macOS Big Sur features speedier updates that start in the background and complete more rapidly. It also comes with a cryptographically signed system volume that guards against manipulation.
Other new features include the ability to assign reminders to specific people in the Reminders app, battery history for the previous 10 days, Family Sharing support for apps with subscriptions, quick style editing, improved search, and support for severe weather and minute-by-minute precipitation reports in Weather.
On November 12, 2020, macOS Big Sur became available as a free upgrade for all supported Mac models. For a short review of what to anticipate when you install the update, beginners should watch the video below before reading our list of 50 advice.
Design
The first significant makeover of macOS since Mac OS X is seen in macOS Big Sur, with Apple bringing a fresh aesthetic that is both contemporary and recognisable, with an emphasis on translucency, consistency, and content.
Sidebars are now full height, and toolbars have been changed to better match each window. There are no longer any different buttons on the toolbars seen at the top of programmes, giving the operating system a more unified, simplified appearance.
Windows now has a lighter appearance with softer, rounder edges, and programme icons also have subtle colour and design modifications. Along with the ability to turn off background tinting to make dark mode darker, Apple has also modified the icons for all of its native applications, giving them a unified round-edged squircle style.
In toolbars, sidebars, and controls across macOS Big Sur, new symbols have been added to make it more obvious where to click and what will happen when you do. For consistency, apps that perform similar functions, such browsing the inbox in Mail or Calendar, now use the same icon.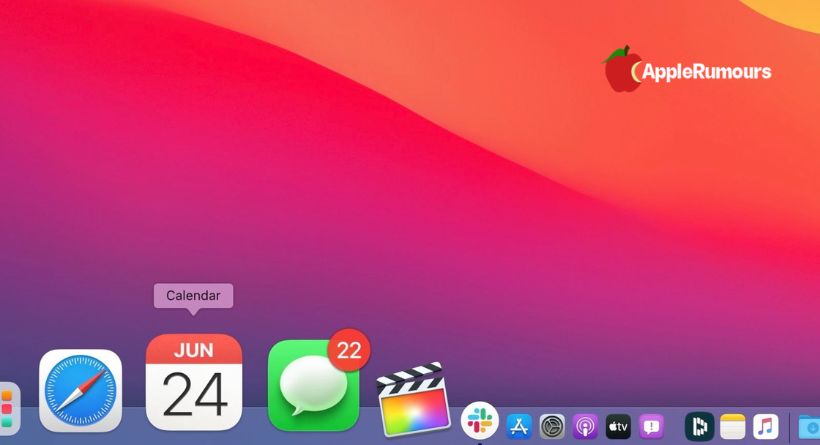 The revamped Dock, which now has the same rounded edges as windows, may be used to observe the improved app appearance. The Dock has a more elevated look and more transparent than it was before, allowing it to blend in with the desktop.
Control centre and the menu bar
To better mix with the desktop, the menu bar at the top of the screen has been made transparent. Like the dock, it may also be hidden when not in use. There is more room between lines in pull-down menus, making them easier to read.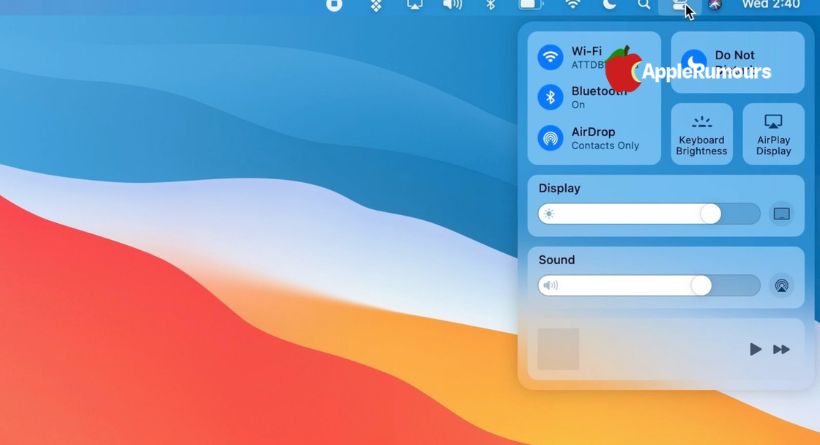 The icons and dropdowns in the menu bar have all been updated, and most significantly, the battery symbol now displays information about the remaining battery life. Additionally, System Preferences provides access to battery consumption information, and macOS Big Sur contains the Optimized Battery Charging function that was initially implemented in macOS Catalina to increase battery life.
The new Mac Control Center is located in the menu bar and offers fast access controls for Bluetooth, Wi-Fi, display brightness, keyboard brightness, currently playing, and toggles for Dark Mode, True Tone, Night Shift, Do Not Disturb, and AirPlay. You may configure the Control Center so that the features you use the most often are directly at your fingertips.
Sheets
In macOS Big Sur, Sheets, the little pop-up windows that appear when you print or save a document, have been redesigned with the borders and bezels removed to make them less intrusive. Sheets automatically resize into the app's centre and fade into the background.
Device Sounds
The old-school Mac sounds have all been modernised and improved to be "more aesthetically pleasant." Each sound was produced using samples from the original noises, which gives them a familiar yet fresh tone.
Additionally, Apple has reinstated the traditional starting chime that was eliminated from the MacBook series in 2016.
Information Center
Incoming alerts and widgets are now combined in a single display in the newly redesigned Notification Center, giving users access to more information quickly.
You may now play a new podcast or react to an email without opening an app since notifications are now organised by app and have more interactive capabilities. To access the new choices, just click and hold on the notice.
Widgets have been updated and are comparable to those in iOS 14; they are now adjustable in three sizes and come with a widget gallery so you can arrange things exactly as you want them. New widgets are also available to use with applications like Notes, Screen Time, Podcasts, and others.
The Mac App Store has third-party widgets for the Notification Center.
Greater security and quicker updates
Mac OS X Big Sur features a feature that enables software updates to start in the background and complete more quickly, so the installation of new software updates won't take as long. It also has a cleaner, more polished appearance. This functionality requires the installation of macOS Big Sur, therefore the first macOS Big Sur installation takes the usual amount of time.
The Big Sur-exclusive system volume that powers the functionality is cryptographically signed, adding an extra degree of security against hostile interference. You may now utilise an APFS disc in addition to an HFS+ disc to backup your Mac with Time Machine thanks to the inclusion of support for APFS in macOS Big Sur.
Safari
There are options to add Favorites, Frequently Visited Sites, Siri Suggestions, Reading List, iCloud Tabs, and the new Privacy Report feature to Safari's new start page, which may be personalised with a wallpaper.
More quickly and efficiently than before, Safari. When compared to Chrome and Firefox, it loads commonly visited websites 50% quicker and can play films for up to three hours longer.
You may now transfer your history, bookmarks, and passwords from Chrome to Safari if you wish to switch browsers so you can use Big Sur's new features.
Safari in macOS Big Sur supports HDR video and is compatible with YouTube and Netflix's 4K HDR and Dolby Vision content. Those who possess a Mac with a 2018 model or later may use Big Sur to view 4K Netflix video in Safari.
Security Report
If you click on the shield symbol next to the URL bar, you may see trackers one site at a time. Privacy Report lists how many trackers have been prevented from profiling you on the start page.
A website cannot follow your online activities by using the list of trackers provided by Privacy Report, together with the number of trackers that were disabled. You may check how many trackers have been banned over the last 30 days by selecting the Privacy Report menu item from the menu bar.
Tabs
There are now more tabs accessible at once in Safari, and there is a new hover option that allows you to hover over a tab to receive a page preview. Additionally, tabs include page icons so you can quickly identify what's what.
Extensions
The Mac App Store has a section specifically devoted to extensions, and Apple has added support for the WebExtensions API, which enables developers to convert extensions made for other browsers like Chrome, Edge, and Firefox into a format that works with Safari, thereby expanding the selection of extensions available to Safari users.
Apple adopted new privacy safeguards as a result of the increased emphasis on extensions. A warning will appear when an extension has wide authorization to view every website you visit, and you may choose which websites an extension can access.
Integrated Translation
You can read a full website in another language without installing an extension thanks to Safari's built-in web translator, which translates seven languages with just a single click.
English, Spanish, Chinese, French, German, Russian, and Brazilian Portuguese all have built-in translation capabilities.
Password surveillance
Safari now keeps track of passwords stored in iCloud Keychain to ensure they haven't been stolen in any known data breaches. Safari notifies you if your password has been compromised so you may change it.
Netflix and YouTube in 4K
For the first time, Safari in macOS Big Sur supports 4K HDR YouTube videos, enabling better quality films to be seen at full resolution as opposed to being restricted to 1080p. In order to see 4K Netflix material in Safari while using Big Sur, Mac users must have a 2018 or later Mac with a T2 processor. It also supports 4K HDR and Dolby Vision content from Netflix.
Messages
Messages is now a Mac Catalyst app, bringing it closer to the Messages app on iOS devices and giving it access to many of the same features that were included in iOS 14.
The Messages app allows you to pin up to nine of your most significant chats; these conversations appear as circular icons at the apps top. You can see when someone is typing thanks to typing indicators, and new messages and Tapbacks animate just above the pin.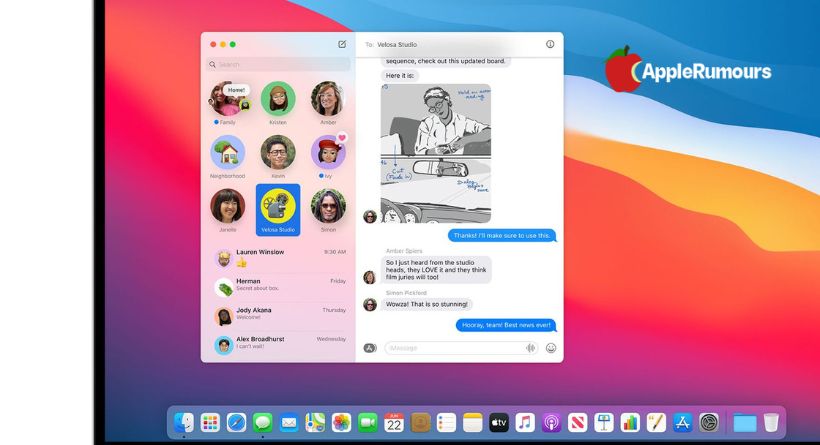 By allowing you to react to a particular message that establishes a separate thread that can be picked out, inline responses facilitate better conversation organisation. Although it is effective in one-on-one interactions, group chats are where it shines.
You may add photographs, Memoji, or emoticons to group conversations, and Mentions enable you send a message specifically to a certain user. You may set a group chat to give you a notice if it is muted and someone @mentions you in the discussion so you won't miss the most crucial parts of a chat.
The Messages app also has a new Photos picker in addition to Memoji stickers (which can now be made on the Mac using the Memoji editor), a #images search for discovering popular photos and GIFs, and Message effects, which have been available on iOS for some time.
The Messages screen may be overtaken by message effects like balloons, confetti, lasers, and more. Additionally, chat bubbles can have custom effects attached to them.
Maps
Similar to Messages, Apple has enhanced Maps for Mac by providing a number of features that were previously exclusive to iOS as well as the same new features added to iOS 14.
Cycling instructions that account for elevation, congested roads, stairs, and other factors may be planned on a Mac and delivered to an iOS device. There are also tools for creating routes that integrate electric car charging stations.
You can make your own Guides in the Maps app in macOS Big Sur and then share them with friends and family. Guides are lists of recommendations for places to eat, shop, and visit in cities all around the globe that have been established by dependable companies and partners.
With the addition of Look Around in macOS Big Sur, the Maps app now allows you to explore cities in a thorough, street-level perspective. Additionally, indoor maps let you see inside of airports and retail malls so you can get acquainted with their layouts before leaving.
Apple's more precise maps will be made available in Canada, Ireland, and the UK in 2020. Live updates for shared ETAs may be seen in the Maps app, allowing you to track the progress of someone who has shared an ETA directly on your Mac.
Other novelties
Spotlight
The Finder's Spotlight search function now performs searches more quickly than before, and the results are shown in a list that is simpler to comprehend.
With options for making fast modifications like cropping, signing PDFs, and more, Quick Look in Spotlight enables full-size scrollable previews of almost any document or website. For quicker editing, Quick Look features may be utilised without opening an app.
The Find menu in Safari, Pages, Keynote, and other applications is now powered by Spotlight as well.
Quick User Change
With the new Fast User Switching feature in macOS Big Sur, you may swap user accounts fast and effortlessly without having to restart your computer or log out. It is comparable to the rapid switching option offered to Windows users.
ITunes Store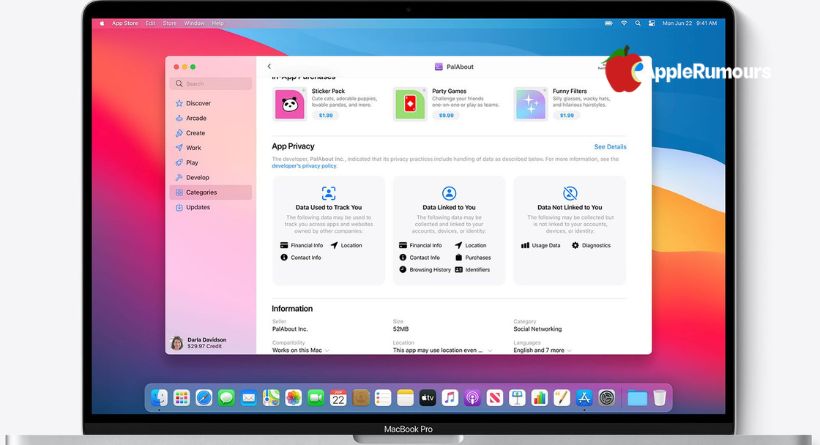 In order to help you choose the applications you download, Apple included a "nutrition label" that contains information from developers on what data is gathered and if that data is used to follow you across other apps and websites.
Developers must provide this data on their own, and those who do not or submit incorrect information run the danger of having their applications deleted from the App Store during an audit.
You can see games with achievements and milestones, see games that are popular among friends, and examine your in-game accomplishments with the Game Center profile thanks to Apple Arcade's stronger Game Center integration.
Additionally, Apple Arcade in Big Sur enables you to browse previously played games in the Apple Arcade page so you may move between platforms without a hitch. In addition to new search criteria, the Apple Arcade area of the App Store also offers previews of future titles.
In-app purchases and app subscriptions may now be shared across many family members by app developers, enabling additional users to access subscription services.
Photos
All of the picture editing tools are now accessible while editing films, and the Photos app includes an enhanced retouching tool for eliminating undesirable features from photographs.
Photos may be made more vibrant, and filters and Portrait Lighting effects' intensities can be changed for more subtle changes.
To match the new Captions option in iOS 14, the feature known as "Descriptions," which enables text to be added to photographs to add another search element, has been renamed "Captions."
AirPods
AirPods seamlessly transfer between active devices attached to the same iCloud account while using macOS Big Sur and iOS 14.
Therefore, your AirPods may transition between the iPhone and the Mac without the need to utilise the Bluetooth controls if you view a movie on your iPhone and then go to your Mac.
HomeKit
Secure HomeKit Face Recognition and Activity Zones are now supported by video cameras viewed in the Home app. With Face Recognition, the camera can identify friends and family to let you know who is at the door or on camera by using information about their names that it has learned from the Photos app.
You may further customise motion detection alerts by blocking off certain areas with high activity using Activity Zones.
The new Adaptive Lighting feature, which is essentially Night Shift for light bulbs and can be used with HomeKit-connected smart lights that change colour during the day, is available. It reduces blue light at night by changing the colour temperature of the bulb during the day.
The Home app now has a revamped main toolbar layout that allows you to view key accessories quickly as well as accessories that need attention, such those with short battery life, connection issues, or updates that need to be installed.
ITunes Music
The "Listen Now" interface in Apple Music has taken the role of "For You," which offered tailored playlists, artist interviews, and new releases all in one location. Similar to "For You," but with a stronger focus on new releases and tailored information.
To make it simpler to discover new music to listen to, Apple Songs's search engine now includes a variety of musical genres and music based on categories like "Summertime Sounds."
Notes
Similar to iOS, the Pinned notes area may be extended or collapsed, and the new Quick Styles feature makes it quick and easy to access more text styles and formatting choices.
The scanner tool for Continuity Camera is enhanced, producing crisper scans with improved autocropping, and search includes "Top Hits" with recommendations of what would be most relevant.
Reminders
Now, reminders may be sent to those who share lists, and intelligent recommendations are made based on previous reminders you've set up. Emoji may be used to customise lists, smart lists have additional organisational choices, search is more effective than ever, and there are new keyboard shortcuts for moving between lists and modifying reminder dates.
Weather
The weather widget delivers information on impending significant temperature changes, severe weather warnings from the government, and next-hour precipitation information.
Compatibility
macOS Big Sur is compatible with most 2013 and later machines, outlined below:
2015 and later MacBook
2013 and later MacBook Air
Late 2013 and later MacBook Pro
2014 and later iMac
2017 and later iMac Pro
2014 and later Mac mini
2013 and later Mac Pro
The operating system update does not support the following Macs that were capable of running macOS Catalina:
2012 and Early 2013 MacBook Pro
2012 MacBook Air
2012 and 2013 iMac
2012 Mac mini
Release Date
macOS Big Sur was released on November 12, 2020, and it is free for all compatible Macs.