Apple has upgraded the iPhone SE to a new generation, with the entry-level smartphone now featuring a 5G connection, but has Apple done enough to entice customers to switch to a new model?
The iPhone SE has traditionally served as an entry point into iPhone ownership. One offers users a tiny smartphone with the majority of the contemporary conveniences of flagships, but at a relatively affordable price.
Apple's third-generation iPhone, released on March 8, continues the company's heritage of serving as an introduction device of sorts. This time, it's a low-cost method for individuals to upgrade to 5G.
Along with the improved connection, Apple also made a slew of internal improvements. As a result, the new iPhone SE may be an excellent alternative for owners of the previous model as well as potential switchers.
Here's how the 2020 and 2022 iPhone SE models compare.
Specifications
iPhone SE 3
iPhone SE 2
Price (starting)
$429
$399
Dimensions (inches)
5.45 x 2.65 x 0.29
5.45 x 2.65 x 0.29
Weight (ounces)
5.09
5.22
Processor
A15 Bionic
A13 Bionic
Storage
64GB,
128GB,
256GB
64GB,
128GB
Display type
4.7-inch Retina HD
4.7-inch Retina HD
Resolution
1,334 x 750 at 326ppi
1,334 x 750 at 326ppi
Video
4k 60fps,
1080p Slo-mo
4K 60fps,
1080p Slo-mo
Wireless Charging
Qi
Qi
Colors
Midnight,
Starlight,
(Product)Red
Black,
White,
(Product)Red
True Tone
Yes
Yes
Biometrics
Touch ID
Touch ID
Connectivity
5G (sub-6GHz),
LTE Advanced,
Bluetooth 5.0,
Wi-Fi 6
Gigabit-class LTE,
Bluetooth 5.0,
Wi-Fi 6
Rear Camera
Single-lens 12MP Wide camera
Single-lens 12MP Wide camera
Front Camera
7MP FaceTime HD
7MP FaceTime HD
Battery Size (Video playback time)
Up to 15 hours
Up to 13 hours
iPhone SE Gen 3 vs iPhone SE Gen 2: Comparison of physical dimensions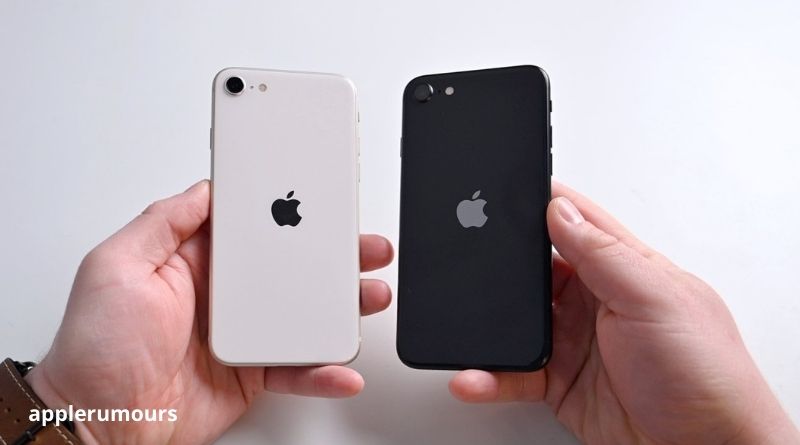 Although considered a small iPhone, the second-generation iPhone SE wasn't the smallest. Although the iPhone 13 mini takes the top spot by just a few millimeters, the iPhone SE is not far behind.
The Gen 2 model measures 5.45 inches tall, 2.65 inches broad, and 0.29 inches thick. In terms of weight, it weighs a decent 5.22 ounces.
The second-generation SE repeated design elements from the iPhone 8, rather than adopting design concepts from flagship models such as the iPhone 13. Because it does not have an edge-to-edge screen, it has bigger bezels and a thicker top and bottom.
Apple keeps the same system design for the third-generation model, with no noticeable outward alterations. It's also exactly 5.45 inches tall, 2.65 inches broad, and 0.29 inches thick like its predecessor. The updated model, though, weighs 5.09 ounces less.
Because of the iPhone SE's pricing, Apple will not employ more expensive materials such as stainless steel. The second-generation model, on the other hand, is made of aluminum and has glass panels on the front and rear. This legacy is carried on with the third-generation model.
The iPhone SE 3 is not intended to be a flagship device. Because Apple is aiming for a cheap price, you won't receive the company's most recent design ethos from the device.
Display comparison between iPhone SE Gen 3 and iPhone SE Gen 2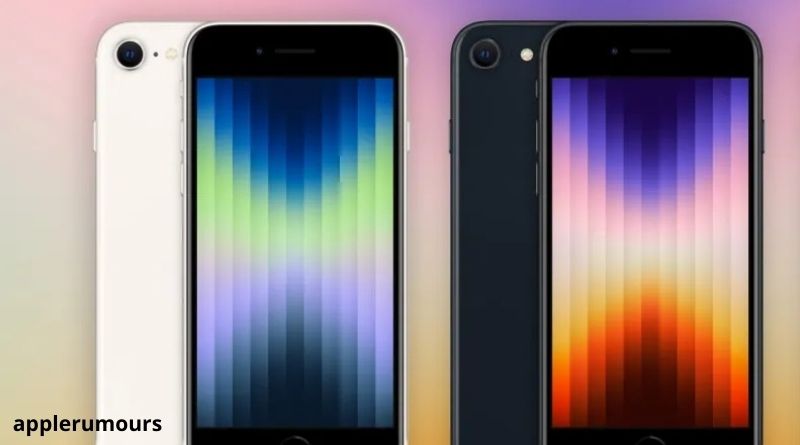 Because the iPhone SE Gen 2 and Gen 3 lack an edge-to-edge display and have a Home button, the screen size is quite modest in comparison to the size of the device. In the second, Apple employed a 4.7-inch Retina HD display, which is kept in the third.
Unsurprisingly, all models have the same display characteristics, including a resolution of 1,334 by 750, a contrast ratio of 1,400:1, a pixel density of 326ppi, and a brightness of 625 nits.
Comparison between iPhone SE Gen 3 and iPhone SE Gen 2 – Processing performance
Although striving for a cheap price, Apple does incorporate a very modern A-series processor in the iPhone SE. Apple includes the A13 Bionic processor,  also included in the current-generation iPhone 11, when it launches in early 2020.
It is a 7nm hexacore SoC with two high-performance cores and four power-efficient cores. It also had an Apple-designed four-core GPU and an eight-core Neural Engine, as well as 8.5 billion transistors.
By 2022, the third generation goes on to the A15 Bionic, which is utilized in the iPhone 13 series. It has two performance and four efficiency cores, as well as an upgraded GPU and a 16-core Neural Engine.
The A15 is quicker than the A13, as seen by Geekbench ratings for the second-generation iPhone SE over the iPhone 13.
The Gen 2 SE obtains a single-core score of 1,312, a multi-core score of 2,818, and a Metal score of 7,285. The iPhone 13 scores 1,671 for single-core, 4,480 for multi-core, and 10,805 for Metal.
While we may see varied results when the third-generation SE is benchmarked, it won't be far behind the iPhone 13.
Face the facts. It's a more recent chip. It will be more rapid.
A comparison of the iPhone SE Gen 3 and the iPhone SE Gen 2 in terms of cameras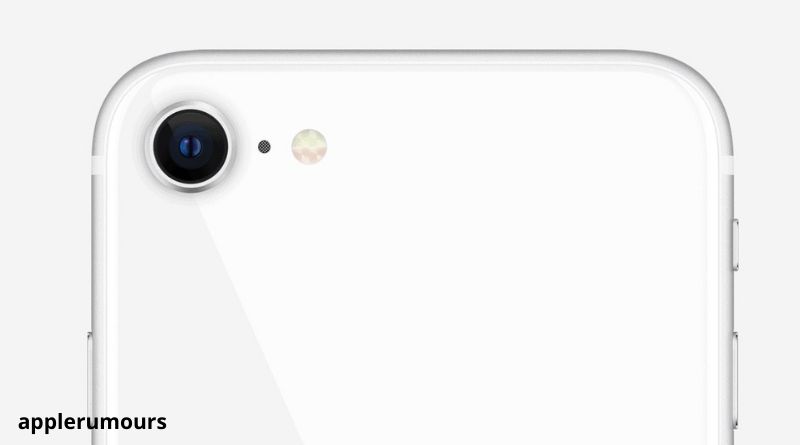 Because it is a low-cost handset, Apple chose a single camera on the rear of the second-generation iPhone SE rather than a dual-camera setup. The iPhone SE Gen 3 essentially has the same camera with minor differences.
Both versions' 12-megapixel Wide camera includes an f/1.8 aperture, optical image stabilization, a 5x digital zoom, and a True Tone flash. Smart HDR images, as well as Portrait mode with Depth Control and Portrait Lighting, are supported.
The first and only difference here is Apple's move to the A15 processor, which delivers enhanced picture signal processing. Advances in Deep Fusion computational photography are included, along with an upgrade to Smart HDR 4 and Photo Styles.
The second-generation device could shoot video in 4K resolution at up to 60fps and 1080p slo-mo at 240fps. Optical picture stabilization, a 3x digital zoom, and stereo recording were all included in the video.
There are no modifications for the third generation in the video, therefore you won't find the iPhone 13's Cinematic Mode here.
A FaceTime HD camera with a 7-megapixel resolution, an f/2.2 aperture, Retina Flash, and 1080p30 video recording is located on the front of the second-generation model.
The same camera is used in the third generation, but the picture signal processing has changed. This translates into Smart HDR for photographs, compatibility of photographic styles, a slow-mo mode of 120fps 1080p, and deep fusion.
Apple did not enhance the cameras, but it did improve what it did with them with the third-generation iPhone SE.
Comparison of the iPhone SE Gen 3 with the iPhone SE Gen 2 regarding connectivity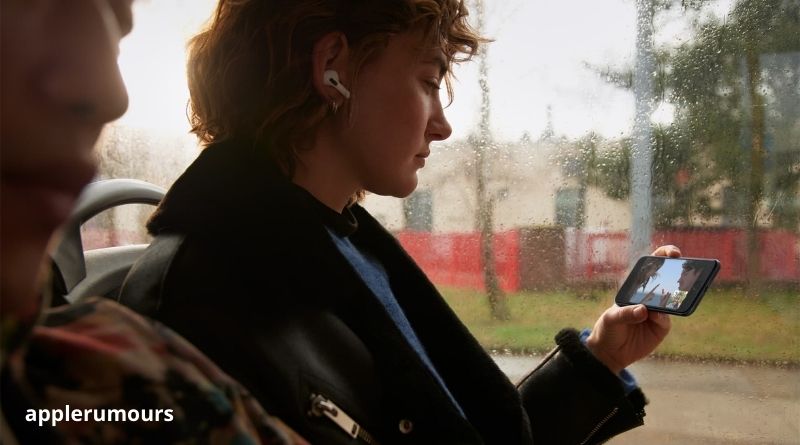 5G capability for sub-6GHz bands is an important feature of the third-generation iPhone SE. This theoretically means it can connect to 5G networks, however it does not support mmWave.
Customers may feel cheated as a result of the choice. 5G is primarily touted for its high-speed connection, which requires equipment to support what is known as mmWave.
Typical 5G networks include mmWave as well as sub-6G bands, with the latter generally equivalent to LTE in terms of range and speed and the former being high-speed but short-range and susceptible to interruption.
Apple indicates that the iPhone if it is 5G now, which is correct. It can connect to 5G networks, which are faster than LTE. Just not at the stated scorching speed, and not significantly faster than the second generation.
Why was this included? Apart from being a marketing point, it's most likely there for future-proofing purposes, as LTE networks will ultimately expire.
This probably will not happen for a while, but for individuals who use cell phones for long periods, knowing they will continue to operate may be reassuring.
Customers may not have a 5G signal where they reside due to the nature of 5G rollouts, and they are unlikely to experience mmWave. It's not a concern because both have LTE connectivity, with the newest model also supporting LTE Advanced.
Both iPhone SE versions offer Wi-Fi 6 with MIMO, Bluetooth 5.0, and NFC for Apple Pay on a more local level. GPS/GNSS is supported on the second generation, while GPS, GLONASS, Galileo, QZSS, and BeiDou are supported on the third generation.
Both iPhone SE versions continue to use Lightning for physical connection.
Battery and Charging Comparative Test: iPhone SE Gen 3 vs iPhone SE Gen 2
Wireless charging was first introduced by Apple with the second-generation iPhone SE, which is compatible with Qi chargers. Unfortunately, since it does not employ MagSafe, Apple's preferred wireless charging solution with a faster charging rate, it can only charge at 7.5W.
Despite the lack of MagSafe, it still supports Qi and operates at a restricted 7.5W.
Both may, of course, be charged by Lightning. This contains a fast-charge capability, which allows it to acquire up to 50% of its capacity in 30 minutes when used with a suitable 20W adapter.
In terms of battery life, Apple claims the second iPhone SE can deliver up to 13 hours of movie playing, up to 8 hours when streaming, and up to 40 hours of music playback.
On the third, battery life is increased to 15 hours of video playing, 10 hours of streaming, and up to 40 hours of listening.
Comparison of the iPhone SE Gen 3 and the iPhone SE Gen 2 – Other Features
Because neither model has a TrueDepth camera for Face ID biometric security, they rely on Touch ID through the Home button at the bottom of the screen.
Apple classifies the splash, water, and dust resistance of both versions at IP67, which equates to being immersed for 30 minutes at a depth of three feet.
A comparison of iPhone SE Gen 3 and Gen 2 based on capacity and price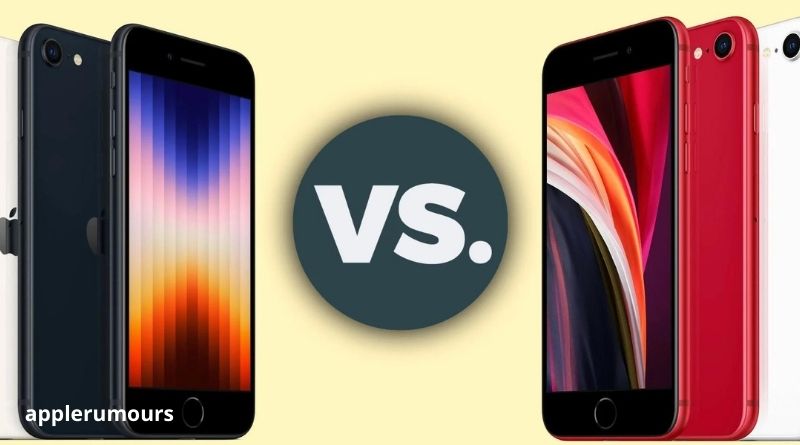 From its very release, the second-generation iPhone SE has been available in two storage capacities: 64GB and 128GB. Apple charged $399 for the 64GB model and $449 for the 128GB model.
Apple adds a third 256GB option to the current 64GB and 128GB options for the third-generation iPhone, seemingly noting how quickly customers may fill up storage. The 64GB model costs $429, the 128GB model costs $479, and the 256GB model costs $579.In essence, Apple has raised the pricing of the third-generation iPhone SE 64GB and 128GB versions by $30.
For the second-generation model, Apple provided three color options: White, Black, and (Product)Red. The only difference between the third and fourth generations is that the names have changed to Midnight, Starlight, and (Product)Red.
Significantly better, but not massive
Apple's upgrade to the iPhone SE is a perfect example of a specification bump. With all of the fundamental changes occurring within, you're not receiving anything new on the exterior.
This makes sense for Apple to do on the iPhone SE since it saves money by not rebuilding something that currently works.
The adjustments are modest. Switching from the A13 to the A15 will be appreciated by app power users, as will the image processing update that enables computational photography on the model.
The 5G iPhone SE, which is the centerpiece of it, is technically right but falls short of the high-speed vision that many would have expected. Yes, it connects you to 5G networks, but other than signal support, you won't experience any substantial benefits.
Battery life improvements are always pleasant, albeit it appears to be due to switching to a more energy-efficient CPU rather than adding a larger battery.
The lack of MagSafe might be considered a squandered opportunity. But, on the other hand, how many people who buy the cheapest iPhone in the lineup care about acquiring MagSafe accessories to go with it?
It's difficult to promote the third-generation iPhone SE as an upgrade for second-generation users. There are a few differences, but the upgrade isn't worth it unless you want basic 5G connectivity, speedier processing, and computational photograph modifications.
While the third-generation iPhone SE isn't a significant advance over the second-generation model, it maintains the iPhone SE current and relevant as the entry-level iPhone in the lineup. This is especially true for individuals upgrading from extremely old iPhones or switching from Android for the first time.
It's hardly a game-changer for the iPhone SE. It's just maintaining things current enough to be helpful.